ahc classic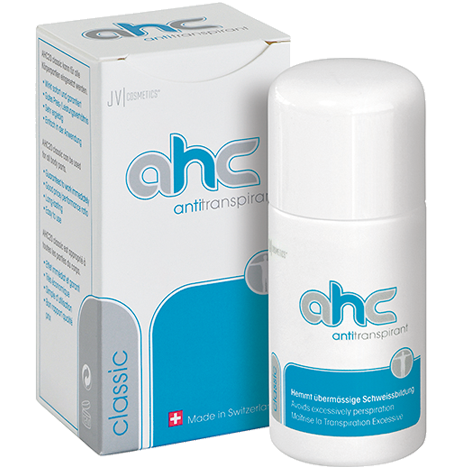 For excessive sweating
ahc classic
For armpits, abdomen, back, ...
For normal skin
Simple application
Without colorants and preservatives
Dermatologically tested: very good
Our classic
The antiperspirant ahc classic has proven itself as a leading product against excessive perspiration. ahc classic is the classic in our assortment and especially popular. Our customers appreciate the reliable effect and its cost effectiveness. The effect is dermatologically confirmed.
For the antiperspirant ahc classic we only use the best quality ingredients that meet our high standard.Its effectiveness is guaranteed, and with maximum compatibility.
---
Application
The antiperspirant ahc classic is suitable to use on the armpits, on the abdomen and on all parts of the body that are not particularly sensitive. For particularly sensitive skin, for example on the forehead, we recommend ahc sensitive.
ahc classic closes the sweat glands of the middle and lower skin layer in a gentle and natural way. The success is noticeable after the first application.
Reduces sweat secretion by 80 to 100 percent.
Normally one application per week is sufficient.
Gentle formula: without nanoparticles, without parabens, without triclosan, without perfumes.
Delivery time: 1 to 2 working days