nutric re-active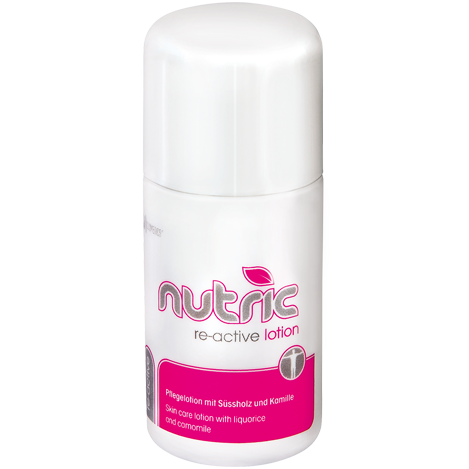 For skin irritation
nutric re-active
First aid for skin irritation
Cools and cares
Sustainable care
Suitable for the whole body
Very long lasting
Dermatologically tested
Care for irritated skin
Constant sweating irritates the skin and makes it particularly sensitive. In this situation, the use of antiperspirant products can further irritate the skin. For skin irritations such as redness, itching and burning, we recommend nutric lotion.
---
High quality ingredients
For skin irritations, nutric lotion helps quickly. The lotion relieves redness, itching and annoying burning without impairing the effect of the antiperspirant.
We only use high-quality ingredients for nutric lotion:
Alpha-bisabolol is the main active ingredient in camomile. It has an anti-inflammatory and antibacterial effect.
Alatonin is a plant-based active ingredient that promotes wound healing. In addition, alatonin accelerates cell regeneration and makes the skin noticeably soft and smooth.
Frescolate crystals have a cooling effect and soothe the skin.
Licorice has a similar effect to cortisone, but is completely natural and accelerates wound healing.
Gentle formula: without nanoparticles, without parabens, without triclosan, without perfumes.
Delivery time: 1 to 2 working days